AUTOMATIC TRANSMISSION FLUSHING SYSTEM WOW! ATFS
EXPAND YOUR SERVICE PORTFOLIO
More and more vehicles are equipped with automatic transmissions. Correct operation is particularly important for safe driving and good service is essential for a long-lasting vehicle.
Following the trend, workshops should offer the right services in the area of sustainability and customer loyalty nowadays and especially in the future. We want to provide the best possible support, which is why we are adding the WOW! Automatic Transmission Flushing System to our product portfolio.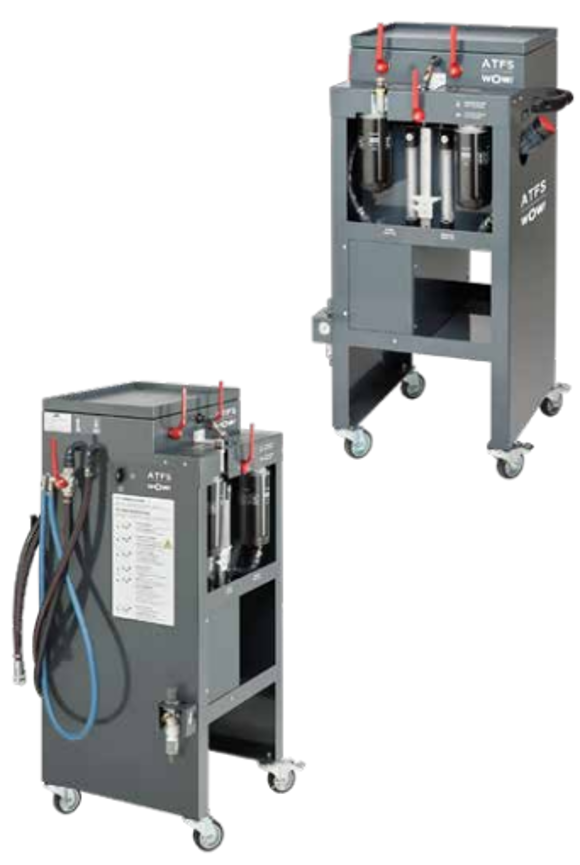 Automatic Transmission Flushing System WOW! ATFS
Art. no. W080 000 001
With the Automatic Transmission Flushing System (ATFS) from WOW! Würth Online World, you will offer an additional service to your customers during the oil change. This will not only expand your service portfolio in the workshop, but you will also benefit from additional revenue and sales of an even stronger customer loyalty.
The ATFS is a high-quality, sustainable and, above all, future-oriented "multi-brand" flushing device for automatic transmissions.
The automatic transmission flushing system WOW! ATFS was developed and approved by our partner GL GmbH Metall- und Werkstatttechnik together with Daimler AG. In combination with the adapter case universal it covers approx. 90% vehicles of German manufacturers and is compatible with a large number of vehicles of European manufacturers.

The WOW! ATFS is robust automatic transmission flushing device that can change automatic gear oil without problems and clean the gears in the same work process.
No additives are needed to achieve excellent cleaning results.
The WOW! ATFS operates on compressed air and uses only transmission oil for flushing, eliminating damage caused by aggressive cleaners.
The WOW! ATFS has two steel containers for old and new oil each with a volume of 20 liters. Two high-performance filters (20 µm) clean the old and new oil during the flushing process. The old oil can be emptied easily and disposed of in the collecting system.
The residual oil can be removed from the oil sump without any additional devices.
Four high quality wheels with stopping function make the stable appliance the mobile support in the workshop.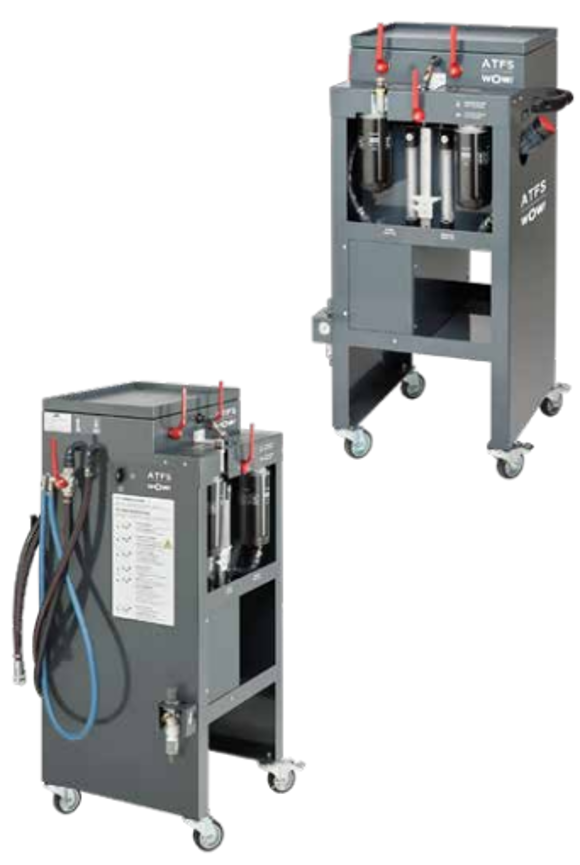 Why is WOW! ATFS the optimal solution for automatic transmission flushing?
Comprehensive service
WOW! and Würth offer the complete range of service: From automatic transmission flushing system ATFS, workshop equipment, hand tools, work protection to financing models.
When you visit any website, it may store or retrieve information on your browser, mostly in the form of cookies.
This information might be about you, your preferences or your device and is mostly used to make the site work as you expect it to. The information does not usually directly identify you, but it can give you a more personalized web experience. Because we respect your right to privacy, you can choose not to allow cookies.
However blocking cookies may impact your experience of the site and the services we are able to offer